"Even scrambled eggs won't be tasty if you don't put heart into it," Maftuna Ummatova, the winner of Tajikistan's Best School Cook 2022 competition
Maftuna Ummatova, the cook in school №1 in Istiklol, Sughd province, gains the maximum number of points in the qualifying round from her region and makes it to the finals along with four more cooks from Khatlon, Gorno-Badakhshan Autonomous Oblast (GBAO), and Districts of Republican Subordination.
In the final, she is the winner. "School is our future," Maftuna Ummatova says in her interview immediately after she is announced as the country's best school cook.
How it started
Maftuna was born and raised in the Kansay village near the city of Guliston, Sughd region, in a family of teachers. Oddly enough, she learned to cook from her father, a physics and mathematics teacher who loved treating his seven children — a son and six daughters, the youngest of which is Maftuna — to delicious food. it was the father who instilled a love for cooking in little Maftuna.
The girl has grown up. Now, she has two children and about 11 years of experience in catering in her native Tajikistan and Russia, where she cooked meals for Khanty-Mansiysk State University and Yugra State University students. Over the past six years, Maftuna has cooked simple and delicious dishes for the children of Istiklol №1 school, feeling genuinely in her place.
Maftuna knows that with her daily work, along with teachers and other school cooks, she contributes to the future of young schoolchildren, their health, and well-being.
Maftuna puts heart into her work and treats the schoolchildren like her family. She spares no effort to serve the children in the school canteen with healthy food. And she knows that food should be tasty and look attractive because only some are happy to eat just a healthy soup or salad.
When designing the menu, she tries to include local dishes familiar to children from an early age, often with the help of the School Meal Recipe Book developed by UN WFP and SIFI.

Asked why she decided to become a school cook, Maftuna says, "I like to cook for children, although it is not easy. Preparing a tasty and nutritious dish with a limited range of products offered to a school cook requires profound skills. Everyone can scramble eggs, but not everyone can make the dish look beautiful, tasty, and healthy. When I cook for children, I feel their energy."
Last year, when the WFP launched the first Best School Cook competition, Maftuna decided to participate. It was her first competition, and she would take her chance to prove herself and ensure she was on the right track.

Step by step, she successfully passed all stages of the competition. In the semi-final, she excelled the other nine participants to receive 50 points out of 50 and reach the finals. She also did perfect homework, coming up with her dish — vegetable stew with meat. Maftuna developed the recipe and cooking instructions and gained the jury's approval.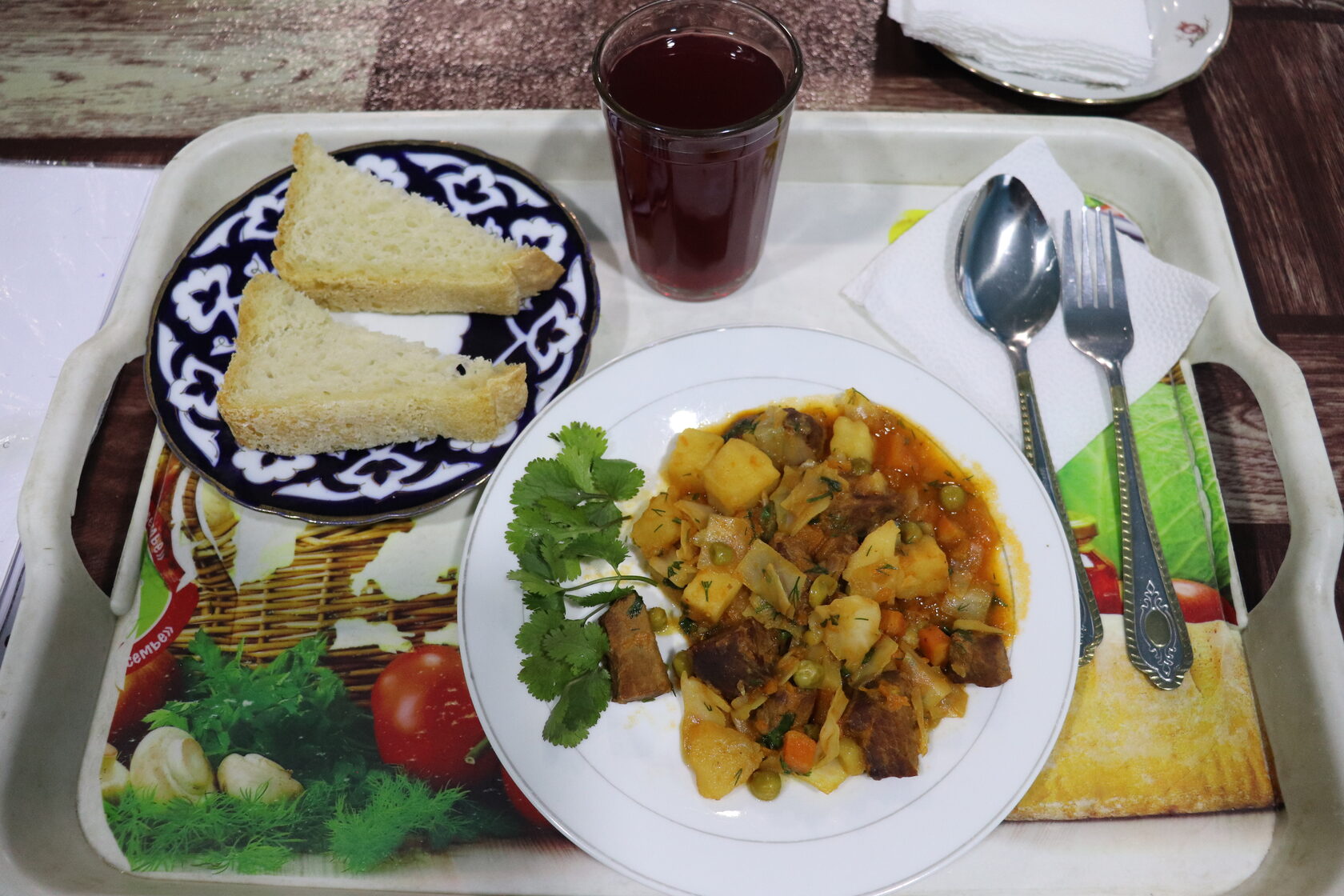 "In the final, I did my utmost to demonstrate professionalism but didn't think about winning the competition at all. I only thought about justifying the hopes of my loved ones, my school, and everyone who believed in me and waited for my victory," the cook admits.
In the final, Maftuna got the highest score of 156 out of 160 possible to win the competition.
The judges were most of all impressed with her attention to detail and strict adherence to the sanitation and hygiene rules — the key to high-quality and safe school meals.
With tears of joy in her eyes, Maftuna tightly holds the cup. "I got so many positive emotions, new knowledge,and, of course, experience."
Dreams come true
"I want our children always to have the opportunity to eat delicious and, most importantly, healthy food. I am so grateful that my dreams come true, and now I can do what I love, participate in competitions and win, competing with professionals. I have another dream. I want to study food technology and open a school for training professional chefs and pastry cooks in our region," Maftuna says.
Let us wish Maftuna every success. May her accomplishments inspire more school cooks to strive for excellence and prove themselves by improving school meals for our children's healthy future
.